Fifth Citizen Convention: "Central America: Shared Threats and Opportunities; a common destiny"
Más de 30 líderes globales, entre Presidentes de Iberoamérica, intelectuales, líderes cívicos y expertos en seguridad hemisférica discutirán sobre la integración económica de Centroamérica. 
La falta de crecimiento económico, el atraso social, la migración ilegal, el narcotráfico y la violencia son algunas de las razones que hacen de Centroamérica una de las tres zonas más rezagadas y conflictivas del planeta.
Ante la compleja realidad que viven Guatemala, Honduras, El Salvador, Nicaragua Costa Rica y Panamá, Fundación Libertad y Desarrollo organiza el V Encuentro Ciudadano: "Centroamérica, amenazas y oportunidades compartidas; un destino común" a realizarse en la ciudad de Guatemala el 3 y 4 de marzo de 2020 para que, desde la visión de distinguidos líderes iberoamericanos, se proponga una solución a los problemas que vive la región y que incluya las dos caras del desarrollo: crecimiento económico vía la Integración Económica de Centroamérica y el fortalecimiento de las instituciones democráticas.
Con la participación de personalidades nacionales e internacionales del ámbito político económico y social como: 
Alejandro Giammattei - Presidente de Guatemala

Carlos Alvarado - Presidente de Costa Rica

S.M. Felipe VI de Borbón - Rey de España*

Nayib Bukele - Presidente de El Salvador*

Laurentino Cortizo - Presidente de Panamá*

Juan Orlando Hernández - Presidente de Honduras*

José María Aznar - Presidente de España 1996-2004

Felipe Calderón - Presidente de México 2006-2012

Vinicio Cerezo - Presidente de Guatemala 1986-1991

Laura Chinchilla - Presidente de Costa Rica 2010-2014

José María Figueres - Presidente de Costa Rica 1994-1998

Luis Alberto Lacalle - Presidente de Uruguay 1990-1995

Mauricio Macri - Presidente de Argentina 2015-2019

Jamil Mahuad - Presidente de Ecuador 1998-2000

Jorge Tuto Quiroga - Presidente de Bolivia 2001-2002

Miguel Ángel Rodríguez - Presidente de Costa Rica 1998-2002

Luis Almagro - Secretario General de la OEA*

Luis Alberto Moreno - Presidente del BID

Enrique Bolaños - Rector del INCAE Business School.

Dionisio Gutiérrez - Presidente de Fundación Libertad y Desarrollo

Richard G. Kerlikowske - Commissioner of U.S. Customs and Border Protection (retd)

Kirsten Madison - Assistant Secretary for International Narcotics and Law Enforcement Affairs (INL)*


Kevin McAleenan - Acting Secretary at the Department of Homeland Security (retd)

James McCament - Deputy Under Secretary. DHS*

Jim Milford - Deputy Administrator of the DEA in Washington (retd)

Moisés Naím - Chairman del G50

George Piro - FBI Special Agent in Charge LATAM

Melvin Redondo - Secretario General de SIECA

Marc Varri - Senior FBI Representative for Government in Europe (retd)
Para reservar su cupo ingrese sus datos AQUÍ.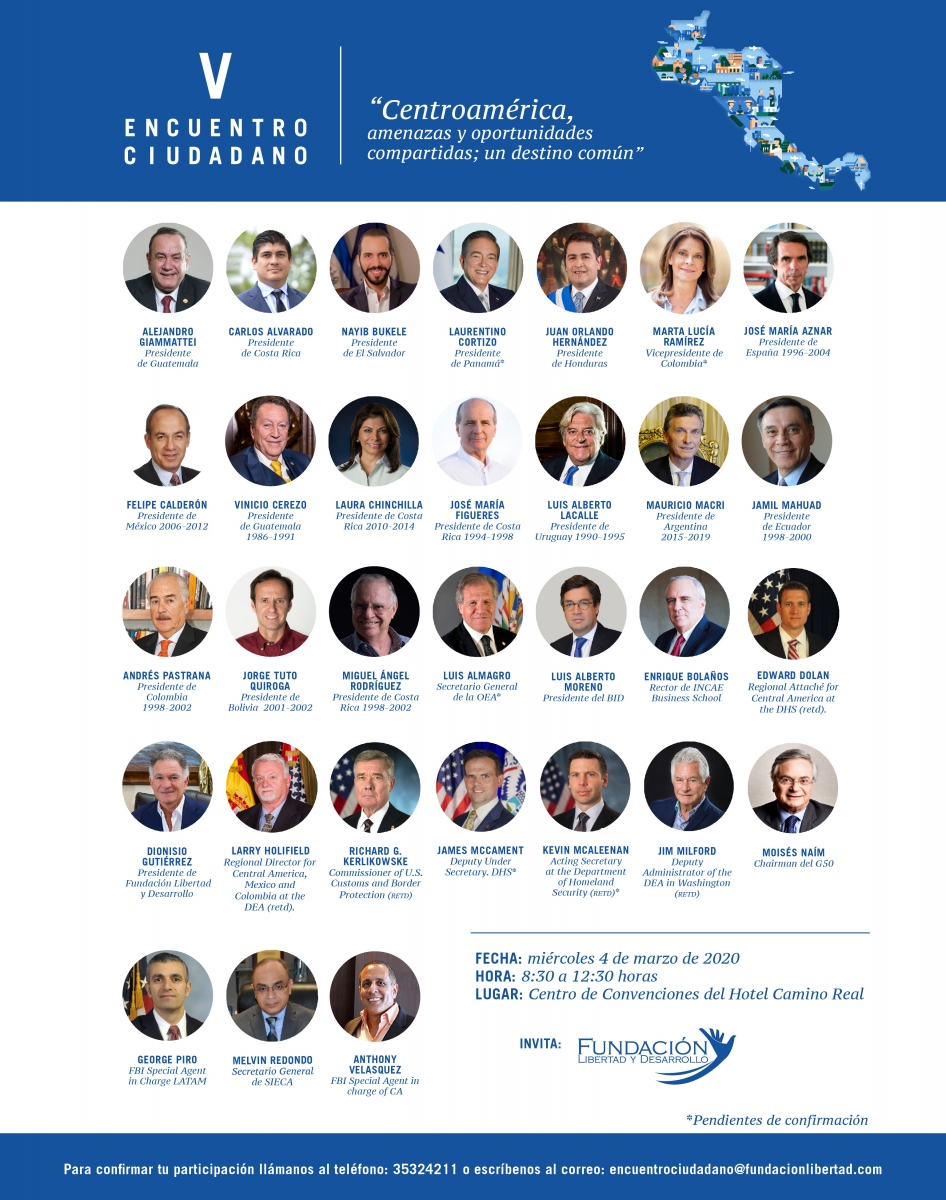 * Pendientes de confirmación